I can't find the thread in which the Tufte club made contact, so here's a new one. (This really hurts.)
It's been a fascinating week for us because the Government is going to tell us where our tax (wait for it) goes. 
It's an excellent idea that we should know things like this. (Central government has made local government do it for some years.) But there are some problems:
"Welfare" usually includes "State pensions", but not in this categorisation.
Why is "Welfare" not broken down into the main categories. Is it for political advantage?
It isn't all taxes, only income tax and the other sort of income tax known as National Insurance. 
So some others have come up with other presentations, including: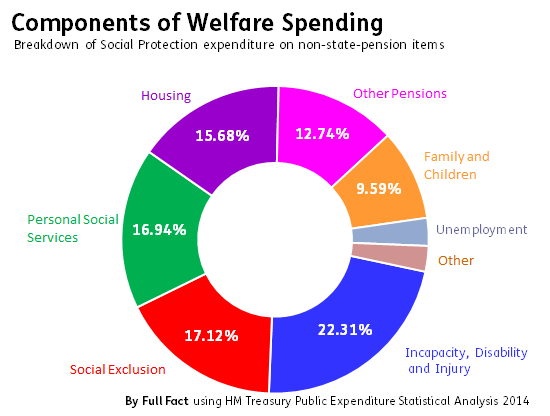 and:
which show how little of "Welfare" goes on "Unemployment".
And I wonder how the discussion went on whether to include the little blue slice labelled "UK contribution to the EU budget". Omit it and offend those who hate paying it, or include it and show how small it is?
Jonathan
Sources and much more detail: